Andrew Mills | NJ Advance Media for NJ.com
Philadelphia celebrates as Eagles dominate Vikings, head to Super Bowl LII
THIS IS HAPPENING.
The Philadelphia Eagles will face the New England Patriots in Super Bowl LII on Feb. 4, after steamrolling the Minnesota Vikings 38-7 at the Linc. The Eagles clinched the NFC Championship and unleashed a wave of joy across a city aching for a championship.
Keep reading...
Show less
Photo by C. Smyth for VISIT PHILADELPHIA®
'Before you can solve a problem, you've got to get your mind right,' King told Philly a crowd in West Philly
Martin Luther King, Jr. came to West Philly 53 years ago and laid it out in bare terms: Gradual action toward freedom is not enough.
Keep reading...
Show less
via gypsymaeve/Instagram
The bull calf was born at the PA Farm Show's "Calving Corner" and named after the beloved Phillies pitcher
If you're not following the Pennsylvania Farm Show, happening this week near Harrisburg, you're definitely missing out, and we're not talking about the legendary milkshakes.
Keep reading...
Show less
French balloonist wowed George Washington, freaked out South Jersey farmers with random landing
The folks at the Franklin Institute reminded us that today in 1793, the first manned balloon flight in America -- between Philly and South Jersey -- took place.
Keep reading...
Show less
Celebrating David Bowie, honorary Philadelphian, on what would have been his 71st birthday
This is no ordinary Monday, Philly.
Not only is it day 3 of the second annual official Philly Loves Bowie Week, but today would have been the 71st birthday of one David Robert Jones, who became David Bowie, and whom Philly embraced as one of our own.
Let's celebrate one of Philly's favorite adopted freaks:
First, set the right mood with Bowie Day on WXPN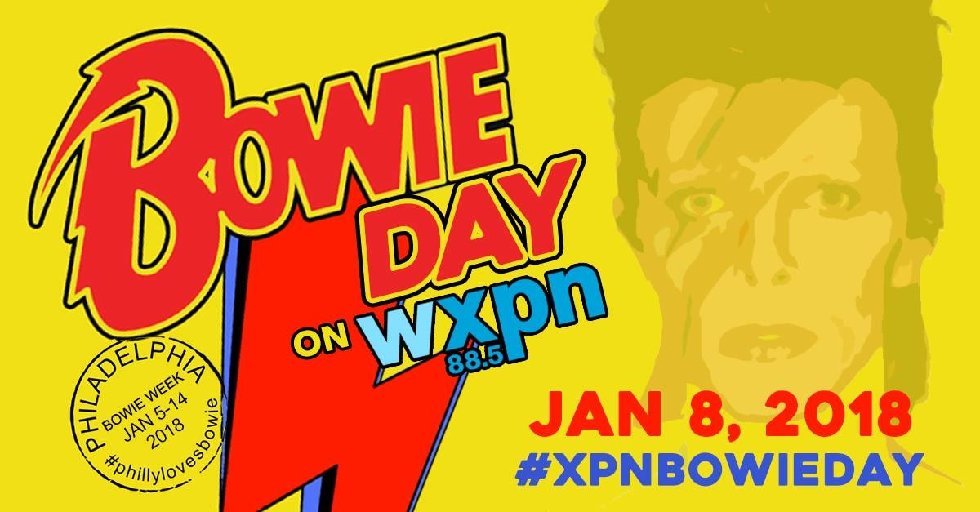 Listen live at xpn.org
via Robert Drake on Facebook
You'll hear David Bowie or something Bowie-connected on just about every radio station playing music in Philly, but only WXPN is giving him his whole day.
It started at midnight with Robert Drake, perhaps Bowie's biggest champion on Philly radio these days, with an all-Bowie set overnight and continues throughout the day. Listen at 88.5 FM or xpn.org.
Remember when he was the hero of alienated '70s Philly teens
One of my earliest memories as a kid growing up in Manayunk was my older sister, Susan, telling me she'd take me to see David Bowie at the Tower Theatre with her friends. This would have been the set of shows that ended up as the "David Live" album, in July 1974.
Obviously, as I was a preschooler and she was in high school, this did not happen, but I did grow up believing that David Bowie was part of our family and that the Tower was the coolest place in the world. Both things proved true.
What was it about David, and Ziggy Stardust, that connected with Philly's young people so much? Whatever magic he conjured, it came on like a light switch, the way young men would discover The Clash a decade later:
"Joe McDevit was converted at The Tunnel at Cottmann and Bustleton, where teen dances were held on Saturday nights. It was there that the blond, broad-shouldered forklift operator, a seventeen-year-old Catholic school drop-out – was first inspired by a friend with a Bowie-do and a rhinestone shirt.
'Next thing I knew, I shaved my eyebrows off, hit the sewing machine to make glitter clothes and found out about this man in Hialeah, Florida, who made custom platform shoes,' McDevit recalled. 'I sent him a tracing of my foot and ordered a pair with eleven-inch heels and eight-inch platforms, navy blue with silver lightning bolts down the side. They came in the mail, a hundred five dollars – I had to work two weeks to pay for them. In a matter of weeks, I went from a normal kid who played baseball at the local field to parading around in full drag. Suddenly, I was bisexual. I had a steady girlfriend, and my boyfriends were all neighborhood kids who played on the baseball team.'
McDevit's first Bowie concert was also his debut to the Delaware Valley's David throng as a fanatic to be reckoned with. 'We camped out for a week for tickets,' McDevit recalled. 'And I had a friend of mind whip up a silver lamé space suit, with a blue lamé jock strap attached to the jacket. I remember waiting for Bowie to come on stage for my entrance. I felt so special. He was on stage singing and I walked down the aisle. They put the spotlight on my and I started throwing kisses.' On that night, Joe McDevit became "Joey Bowie."
Read more at http://www.phillymag.com/news/2016/01/12/david-bow...
(And I did eventually see David live in Philly, though not until the 1987 Glass Spiders tour, and it was everything.)
David came to Philly and found the sound of Young American(s)
The stories of David Bowie's time in Philadelphia during the recording of the Young Americans album is the stuff of rock and roll legend, from the sessions with Luther Vandross on backup vocal (!) to the "Sigma Kids" who camped outside for days and were rewarded with a private listening party when it was done.
The future supermodel Gia Carangi was one of those Sigma Kids, who "got a Bowie haircut and that changed her personality completely," her stepfather recalled.
Check this definitive story from Philly.com on David Bowie's Philadelphia for a great anecdote about him dispatching someone to a Center City record store to buy a bunch of Bruce Springsteen records.
The Spectrum-made 'Modern Love' video is David at his radiant best
"Modern Love," David Bowie
In 1983, Bowie came roaring back onto the scene with the album and song "Let's Dance" -- with platinum blonde hair and a set of pastel slouchy suits that put Duran Duran to shame -- and set the sartorial tone for the Miami Vice look that dominated middlebrow men's fashion the rest of the decade.
The video for "Let's Dance" is a compilation of clips from shows at The Spectrum and is Bowie in full command, owning the stage and perfectly at ease. And those Tony Thompson drums...
The Philly-London Live Aid performance that (fortunately) didn't come off
David Bowie's performance at London's Wembley Stadium during Live Aid in 1985 was the result of a technological failure that saved audiences worldwide from having to watch him and Mick Jagger do an intercontinental duet of "Dancing in the Streets."
The story goes that because a time delay would make a duet impossible, David and Mick got loaded and made a terrible music video for the song that was shown instead, leaving David time to turn in a masterpiece of a solo performance, including the version of "TVC15" above.
Philly loves David Bowie so much we made it official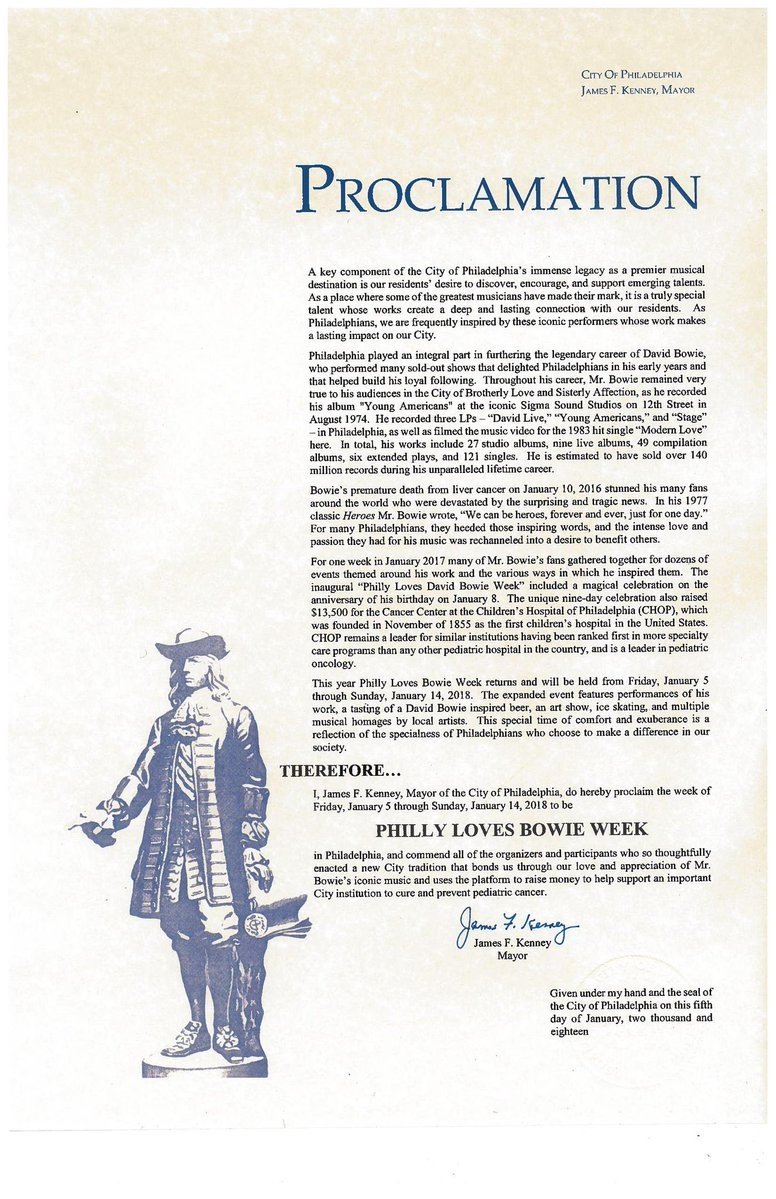 Photo by Rob DiRienzo / ThisisPhilly.com
Yo, we got some grade-A Philadelphia floof here
Yeah yeah yeah, big snowstorm, bomb cyclone Grayson, cold cold cold. Let's get to the good stuff: DOGS HAVING A SNOW DAY.
Enjoy!
Keep reading...
Show less